NFPA 96: Standard Fire Code for Vent Hood Cleaning
In the restaurant business, few regulatory codes are as important as the National Fire Prevention Association's code 96. NFPA 96 is the standard code fire marshals follow to inspect commercial cooking operations, and one of the key components of the code is how the ventilation system is cleaned and maintained. At Quest, we understand that being in compliance with these fire codes is as important to your business as keeping the lights on, so we only partner with the best contractors to ensure that you are always in compliance.
What is NFPA 96?
NFPA 96 is the industry standard for the cleanliness and maintenance of commercial kitchen exhaust systems. As you use cooking equipment, vaporized grease solidifies inside the ventilation ducts over time, creating an inevitable fire hazard. NFPA 96 serves to outline how often your vent hood system should be cleaned by a certified professional, as well as the guidelines of what areas need to be cleaned.
NFPA 11.6.1: "Upon inspection, if the exhaust system is found to be contaminated with deposits from grease-laden vapors, the contaminated portions of the exhaust system shall be cleaned by a properly trained, qualified, and certified company or person(s) acceptable to the authority having jurisdiction."
NFPA 11.6.2: "Hoods, grease removal devices, fans, ducts, and other appurtenances shall be cleaned to remove combustible contaminants prior to surfaces becoming heavily contaminated with grease or oily sludge."
Why NFPA 96 is Important:
According to the U.S. Fire Administration, from 2011 to 2013 cooking was the leading cause of fires, accounting for 63.5% of all reported restaurant fires. Grease occur most often due to improperly maintained kitchen exhaust systems because they are covered in grease inside the ductwork. When your cooking equipment isn't properly cleaned, it allows grease residue to build up, which creates a fire hazard inside of the hood, ductwork, and exhaust fan. This means that if a fire was to occur, all of these grease deposits allow the fire to spread to all these portions of the building – doing way more damage.
Scheduling
How often you should clean your system depends on the type of cooking operation your business or organizations does and how often you use those appliances.
Table 11.4 below from NFPA Code 96 details the minimum standards on how often your kitchen exhaust system should be professionally cleaned based on cooking volume: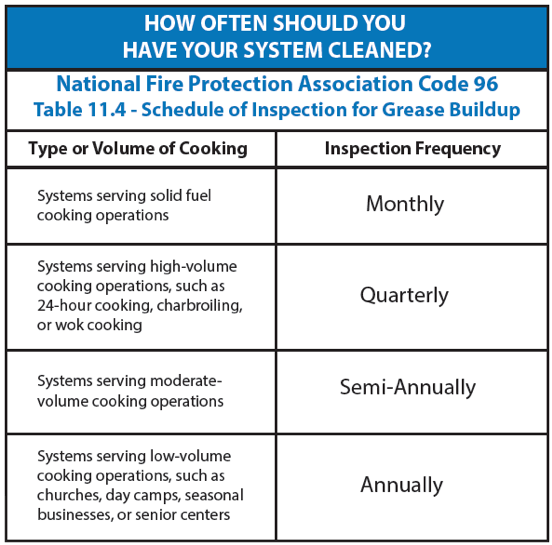 Staying Compliant
By keeping and maintaining a proper cleaning schedule, you're ensuring the safety of your facility, your equipment, and your staff. By maintaining the standards set in the NFPA code 96, you'll never fail an inspection or risk getting shut down due to an unsafe kitchen exhaust system because at Quest we manage the entire process. Including:
Scheduling your vent hood cleaning.
Reminding your staff of upcoming cleaning appointments
Making sure the cleaning is done to NFPA 96 standards
Providing detailed reports of the cleaning, along with a list of any parts that were replaced.
Scheduling your next cleaning based on the NFPA 96 requirements.
One simple invoice for all of your locations.
You get all of these benefits with a single point of contact, and a customer service team that is available 24/7/365. The only question that remains is: what are you waiting for?  Contact Quest today!